A fair proportion of our week at Deceptive is spent listening to demos we receive ... people are kind enough to post quite a few to us but because we're not that big, we can only get involved with a few bands at a time...
We do always listen to demos (cassettes are the preferred format). There's always a 2-3 week back-log and we don't reply to any of them unless we think it's very good or there's a stamped addressed envelope attached. Every band wants some feedback about what's good or bad about the tape but our opinion is completely subjective and holds no importance in the wider world but carries a lot of weight in our local newsagent. So working on the principle that, if we're not that keen on the demo why would anyone want to take any suggestions we had seriously, we don't offer any.
We will feature one demo a week on this site and let the world and her husband know what we think...
---
MONKEY STEALS THE DRUM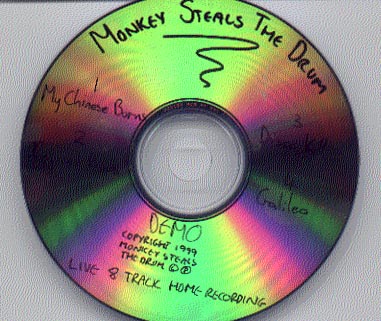 Monkey Steals the Drum are a four piece from sunny Ormskirk. They've been together since July'98 and gigging since April last year. They sent in a rather nicely designed envelope which grabbed the attention. Not a bad start.
For those of you who are John Peel disciples, you'll have heard him play this lot and praise their demo as one of the best he'd received in '99. Kiss of death or fast track to alcohol abuse and your own personal drug dealer...only time will tell.
This demo is recorded live on an 8 track in the bands rehearsal room and you can tell. But what they miss in subtlety at the moment they make up for in energy.
The band have gigged locally so far, no disastrous tales of shipping coach loads of bemused family down to London to satisfy the unreasonable demands of London venues for out of town bands to guarantee 300 or so payers through the door, but I'm sure that's not too far in the furtue.
They have just recorded a session for Peel and it will/was broadcast on 8th Feb.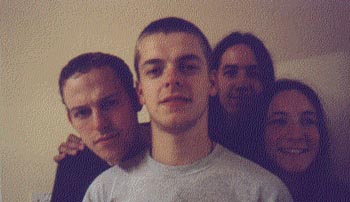 If you want to get in touch, they have a website at :http://members.aol.com/~jcw2001/monkey/
[Note: OLD Website address!]
Try www.monkeystealsthedrum.co.uk!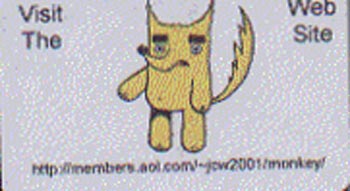 PLEASE SEND IN YOUR DEMOS
LABEL IN 'WE WANT TO SIGN BANDS SHOCK'!!!
WE WANTED TO SIGN TWO BANDS BY THE END OF THE SUMMER...THAT DIDN'T HAPPEN. SO LETS GO FOR ONE BEFORE XMAS.
Demos, Deceptive Records, The Sunday School, Rotary Street, London, SE1 6LG