The Adverstiser, November 18, 1999
Wise Monkeys prove they mean business!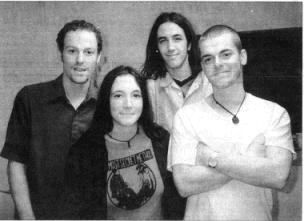 From Left to Right: Phil, Angie, Ade and Chris!
by Kevin Matthews
AMERICAN garage has left the shores of the new world and set up home in Ormskirk.

Local band Monkey Steals the Drum are a US-influenced band who are about to hit the big time.

The four-piece group, together for 18 months, recently received a phone call from music scene legend John Peel who has kick started the careers of many big time bands.
After listening to the band's latest demo he was so interested in the Ormskirk band's sound that he called them the same day and invited them to play at a Sound City concert which he had organised.

Vocalist/guitarist Chris Ashcroft, 23, received the call: "I was totally shocked to hear that unmistakable voice.
"He said he had listened to our CD and had really enjoyed it, and would we play a gig for him in Liverpool.
"I told the others but I don't think they believed me at first."

They went on to play the gig at The Picket in Liverpool alongside local bands including Ooberman.
Lead guitarist Phil Lee, 22, said the night was a great experience: "After the gig, John Peel came to us and said we had lived up to his high expectations and invited us down to London to record some sessions for his Radio One show."

All four members are former pupils of Ormskirk Grammar School. Bass player and vocalist, Adrian Cunliffe, 18, has taken a year out before going to university to be in the band: "I decided to wait a while before going to college just to see if we can make it," he said. "We have all worked really hard and it all seems to be coming together for us.

"We have broken attendance records at the Lomax."
Drummer Angela Walker, 18, was the last to join and learned as she went along. She now provides the beat for the others to build on.

Chris believes that the band's style is a refreshing change from the current music scene: "We are big fans of Nirvana, Pixies and the Smashing Pumpkins and we hope to provide Britain with a long-awaited alternative to Britpop."
John Peel has now contacted the band and asked them to travel to London on December 12 for a recording session.